You know you have several silver fillings in your mouth. Should they be replaced?  Or, are your silver fillings ok?
Below is a visual tutorial of a silver filling being replaced.
The tooth above doesn't look all that bad; a small missing piece of tooth structure, the color of the tooth is a bit grey in some areas around the filling, and the filling is very tarnished. Neither you nor the dentist would even notice the missing tooth without using an intra-oral camera.
The red arrow is pointing to the same area of the tooth. Notice that quite a bit of tooth structure has been removed where the broken tooth was located. Some decay still exists in this area. It will be removed before the final restoration is placed.

The blue arrow shows decay under the cusp. The tooth here was just a bit darker, more gray in color than the rest of the tooth. The decay was much larger than one would guess looking at the before photo.
Decay must be removed including the area where the bacteria started its attack. Here the bacteria came from between the teeth. Remember, FLOSS, FLOSS, FLOSS. That is the only thing preventing the bacteria from entering between teeth.
Several millimeters of tooth structure had to be removed at both locations to find healthy structure for the filling to adhere to.
Removal of the decay is complete. No further bacterial infection is present. The tooth is now thoroughly cleaned in preparation of placing the filling.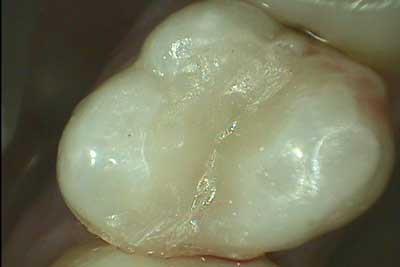 The final restoration.
The restoration is complete. The bite will be adjusted and a final polish placed.

Always brush and floss.
Dentistry has transformed in recent years. We'll give you an experience that will change your mind about going to the dentist and even make you feel good about coming back.