What Is Allesee Orthodontic Appliance (AOA)?
Allesee Orthodontic Appliance is the advanced way to straighten teeth and improve smiles. Using the latest medical imaging technologies, AOA manufacturers precision polymer aligners that rapidly straighten teeth. Using a precise 3 dimensional analysis of your teeth and adjacent tissue, AOA crafts personalized aligners for each patient.
Each aligner is worn for 3 weeks, and can be removed to eat, brush, floss, and on special occasions. During wear, the patient's teeth are gently moved to their ideal position.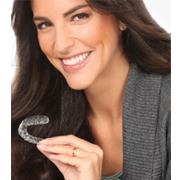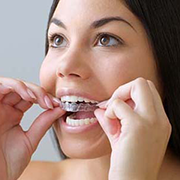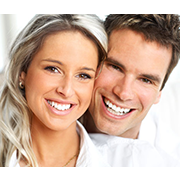 The length of the process depends on the patient's specific situation and the results the patient wants to achieve. AOA aligners are:
Clear · most people won't even know you're wearing them

Comfortable · AOA aligners have a smooth surface that is gentle in your mouth

Removable · take them out to eat or brush, then put them back in again

Hygienic · smooth surfaces stay cleaner than other plastic aligners

Affordable · in most cases, the cost is comparable to metal braces

Fast · treatment time is comparable and in many cases less than that of traditional braces

Convenient · whether you're a singer, musician, or just going on a first date, you'll love AOA aligners
AOA is the ideal solution in many such cases. And while AOA works for most orthodontic problems, only a trained AOA orthodontist or dentist can tell you if this revolutionary product will work for you.
AOA Outperforms All Other Aligners
When it comes to creating beautiful smiles, AOA is the clear winner. AOA aligners:
Are clearer · AOA aligners are the "clearest" on the market.

Stay clearer · AOA aligners do not "cloud" during treatment.

Are more hygienic · the smooth surface of AOA aligners has no ridges to trap bacteria, and is easier to clean.

Are more comfortable · AOA's revolutionary manufacturing process creates the most precise aligners on the market today, ensuring the most accurate fit.
Frequently Asked Questions
The cost of AOA will vary from patient to patient, depending on the treatment that's needed, and is generally comparable to the cost of traditional braces. However, doctors will set their own charges for treatment and we do not provide specific cost information.
Yes. Orthodontists and dentists have been using invisible orthodontics to straighten teeth for decades. Hundreds of thousands of patients have been successfully treated with invisible orthodontic technology.
If you have orthodontic coverage, AOA should be covered to the same extent as conventional braces. But we recommend that you review your coverage, as each policy is different.
Never underestimate the power of a nice smile. A nice smile is not only beautiful, it also promotes good health:Teeth that are straight and evenly spaced are easier to keep clean, leading to better oral health. Better oral health can reduce the incidence of heart disease, gastrointestinal disease, and other health conditions.Teeth that are properly aligned chew more efficiently, and that aids in proper digestionTeeth that are straight and properly aligned create a more perfect bite, and that avoids excessive stress, headaches, and strain on your supporting bone and tissue.
AOA uses proprietary technology to produce aligners customized for each patient's teeth. The patient wears one set of aligners for three weeks and then moves to another set if necessary. By the end of treatment, the teeth have will have moved from an untreated to a treated, beautiful smile.
AOA has a number of important benefits: AOA aligners are so clear, they're almost invisible. So no one will know you're straightening your teeth, unless you tell them.AOA's customized aligners are more comfortable than other forms of orthodontic treatment. There are no wires to tighten and no braces to scrape against the inside of your mouth.AOA is removable, so you can floss and brush your teeth normally during treatment.
AOA aligners are more hygienic. AOA aligners are easy to maintain and clean during treatment.
AOA aligners are made of clear, medical grade polymers. The aligners are so clear, it's likely that no one will be able to tell you're wearing them, unless you tell them.
Aligners are clear, polymer appliances that are almost completely transparent. Some patients have commented that aligners look similar to tooth whitening trays, others think of them as "contact lenses for your teeth".
The AOA System is a series of clear, removable, plastic aligners. Because the aligners are clear, AOA is sometimes referred to as invisible braces or clear braces. With AOA, there are no fixed orthodontic appliances.
The technology behind invisible orthodontics has been on the market for decades. AOA has developed an advanced system of invisible orthodontics that has unique aesthetic and hygienic benefits. Many orthodontists and dentists consider the AOA product to be the next generation in invisible orthodontics.
The concept behind AOA dates back to 1945 when it was first envisioned that a series of tooth positioners could achieve the same movements that most people thought were only achievable with metal braces. With AOA, this is now possible.
AOA is part of the invisible orthodontics category of treatment. Hundreds of thousands of patients have been treated with invisible orthodontics throughout the world.
To treat patients with AOA, doctors must be trained to use invisible orthodontics and certified as an AOA provider.
Doctors can use AOA to treat a vast majority of patients with fully erupted second molars. In most patients, this typically occurs between the ages of 12 and 14.
AOA can treat a wide range of cases. The best way to find out if AOA can work for you is to set up an appointment with an AOA doctor. To find one near you click here.
Many patients have switched to invisible orthodontics after wearing traditional braces for a period of time. We recommend that you consult your orthodontist or dentist to determine if you can switch.
Getting Started Questions
To get started with AOA, simply make an appointment with an orthodontist or dentist who's certified to use AOA. To find one near you click here.
Yes. Orthodontists and dentists have been using invisible orthodontics to straighten teeth for decades. Hundreds of thousands of patients have been successfully treated with invisible orthodontic technology.
Any orthodontist or dentist who's been certified to treat with invisible orthodontics can treat you with AOA. Over ten thousand U.S. orthodontists and dentists are certified.
While In Treatment Questions
As with traditional braces, treatment times vary depending on the patient and how much movement is required. However, treatment time is generally about the same as traditional braces, between 9 and 18 months. Often patients find that treatment with aligners is faster than treatment with braces.
No, during treatment you can eat anything you would normally eat. This is because aligners are removed for eating, drinking and flossing.
We recommend that patients do not smoke while wearing aligners, as aligners may become discolored.
No. We recommend that aligners be removed before chewing gum, as gum will stick to the aligners.
The best way to clean your Aligners is by brushing and rinsing them in lukewarm water.
Aligners should be worn all day, except when eating, brushing and flossing. The closer to 24 hours a day Aligners are worn, the better the results of treatment.
Your orthodontist or dentist will schedule regular appointments to ensure that your treatment is progressing as planned. The frequency will depend on your doctor, but will be on average about once every six weeks.
Your doctor will provide retainers to help prevent your teeth from moving again after treatment. A retainer may be a clear, plastic aligner similar to the AOA aligners, or may be a permanent retainer attached to the inside surface of your teeth. We recommend that you discuss the possibilities with your orthodontist or dentist, as each patient's treatment will vary.
For some people there will be temporary discomfort at the beginning of each stage of treatment. This means that AOA is effectively moving your teeth. Any discomfort typically lasts only a couple of days, and is at the beginning of each stage of treatment.