National Tooth Fairy Month!
The Tooth Fairy needs to keep her teeth clean too! She joined the Smile Club at Dr. Larson's office in Campbell. So her appointments are scheduled during non-work hours to get her teeth the cleanest, healthiest, and most beautiful they can be, without a co-pay for exams, cleanings, or x-rays. Good thing her treatments (like fillings and crowns) are discounted 10%, because sugar cookies are her favorite food! YUM!
The Tooth Fairy doesn't have to worry about a treatment being denied by an insurance company and she knows she will be getting the best care in Campbell at The Smile Specialists!
Does the Smile Club at Dr. Larson's office sound like the right membership for you?
Questions? Call us anytime during our flexible office hours from 7 AM to 7 PM.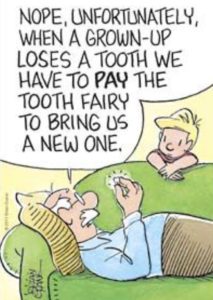 *Looking for a weekend activity? First Fridays are Downtown Campbell's monthly street entertainment night that's held on the first Friday of each month April through December. Next First Friday is August 4th!